MU3822 Molybdenum Telluride (MoTe2) Crystal
| | |
| --- | --- |
| Catalog No. | MU3822 |
| Material | Molybdenum Telluride |
| Density | 7.7 g/cm3 |
| Crystal Size | 5-10mm |
| Growth Method | CVT |
| Purity | >99.999% |
Molybdenum Telluride Crystal can crystallize in two-dimensional sheets which can be thinned down to monolayers that are flexible and almost transparent. Stanford Advanced Materials (SAM) has rich experience in manufacturing and supplying high-quality Optical Products.
Related products: Lithium Triborate Crystal, Lithium Niobate Crystal, Lithium Iodate Crystal, MgO:LiNbO3 Crystal.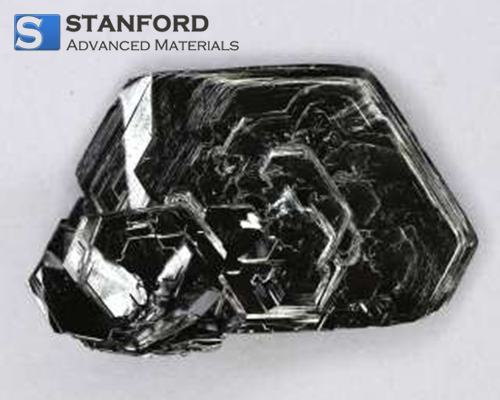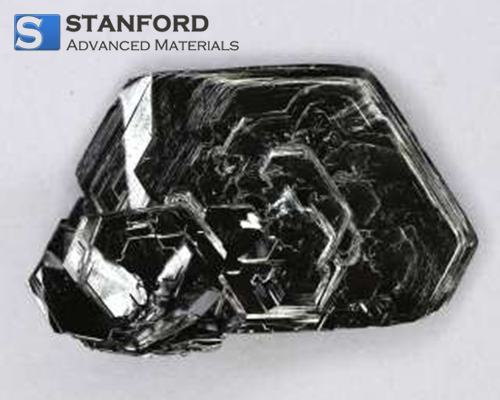 Molybdenum Telluride Crystal Description
MoTe2 Crystal is a semiconductor and a diamagnetic system with an indirect bandgap of ~1.2 eV. Monolayer MoTe2 has a direct bandgap that is inversely proportional to the number of layers. It is a direct bandgap material only for a single layer or bilayer. Note that Molybdenum Ditelluride also exists in the 1T' MoTe2 phase which is a semi-metal. The layers are stacked together via van der Waals interactions and can be exfoliated into thin 2D layers. MoTe2 belongs to the group-VI transition metal dichalcogenides (TMDC).
Molybdenum Telluride Crystal Specifications
| | |
| --- | --- |
| Material | Molybdenum Telluride |
| Density (g/cm3) | 7.7 |
| Crystal Size | 5-10mm |
| Growth Method | CVT |
| Purity | >99.999% |
Molybdenum Telluride Crystal Applications
Used as a semiconductor in electronics or an infrared detector.
Molybdenum Telluride Crystal Packaging
Our Molybdenum Telluride Crystal is carefully handled during storage and transportation to preserve the quality of our product in its original condition.
GET A QUOTE
Please fill in your details and one of our material experts will get back to you within 24 hours. For more information, contact us via E-mail at sales@samaterials.com.
** Email address with your company's domain name is preferred. Otherwise, we may not be able to process your inquiry.