OX0148 Tungsten Trioxide (WO3) – Superfine CAS NO. 1314-35-8
| | |
| --- | --- |
| Catalog No. | OX0148 |
| Size | 0.8-2.5μm |
| Material | WO3 |
| Purity | WO3≥99.95% |
| Appearance | Light yellow powder |
| CAS Number | 1314-35-8 |
With 20 years of experience, Stanford Advanced Materials (SAM) is a leading manufacturer and supplier of Tungsten trioxide. We provide high purity normal tungsten (VI) oxide and superfine tungsten (VI) oxide at competitive prices.
Related products: Tungsten Trioxide (WO3) – Normal, Tungsten Powder, Tungsten Carbide Powder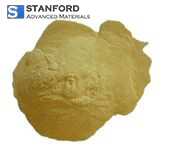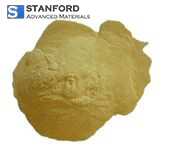 Tungsten Trioxide (WO3) Description:
Tungsten trioxide, also called tungsten (VI) oxide or tungstic anhydride, is a thermally stable and water-insoluble tungsten compound. Tungsten Trioxide is generally immediately available in most volumes. Ultra-high purity, high purity, submicron and nanopowder forms may be considered.
Tungsten (VI) Oxide Application:
-Tungsten trioxide is widely used to manufacture tungstates for x-ray screen phosphors, fireproofing fabrics, and gas sensors.
-Tungsten (VI) oxide has specialized use in the production of electrochromic windows.
-WO3 is also used as a pigment in ceramics and paints due to its yellow color.
Superfine Tungsten Trioxide Specification:
Apparent Density: ≤1.0 g/cm3
Particle Size: ≤0.25 µm
BET:≥3 m2/g
Main Content (%) WO3 ≥ 99.97% Ignition Loss: ≤ 0.3%

Other Contents
(%) ≤

Al

0.0008

As

0.001

Bi

0.0001

Ca

0.001

Cd

0.0001

Co

0.0005

Cr

0.0005

Cu

0.0003

Fe

0.001

K

0.001

Mg

0.0005

Mn

0.0005

Mo

0.002

Na

0.001

Ni

0.0005

P

0.0007

Pb

0.0001

S

0.0007

Sb

0.0001

Si

0.001

Sn

0.0002

Ti

0.0005

V

0.0005

---

---

SAM Tungsten Trioxide (WO3) Packaging:
Our tungsten trioxide is clearly tagged and labeled externally to ensure efficient identification and quality control. Great care is taken to avoid any damage which might be caused during storage or transportation.
GET A QUOTE
Please fill in your details and one of our material experts will get back to you within 24 hours. For more information, contact us via E-mail at sales@samaterials.com.
** Email address with your company's domain name is preferred. Otherwise, we may not be able to process your inquiry.