OX0444 Rhenium(VI) Oxide (CAS No. 1314-28-9)
| | |
| --- | --- |
| Catalog No. | OX0444 |
| CAS Number | 1314-28-9 |
| Chemical Formula | ReO3 |
| Molecular Weight | 234.21 |
| Form | Deep red powder |
| Purity | 99.9% |
| MSDS/SDS | Download MSDS/SDS |
Rhenium(VI) Oxide is a kind of deep red powder with a chemical formula of ReO3 and a molecular weight of 234.21. Stanford Advanced Materials (SAM) offers high-quality Rhenium(VI) Oxide with competitive pricing.
Related products: Rhenium Powder, Rhenium Pellet, Trirhenium Nonachloride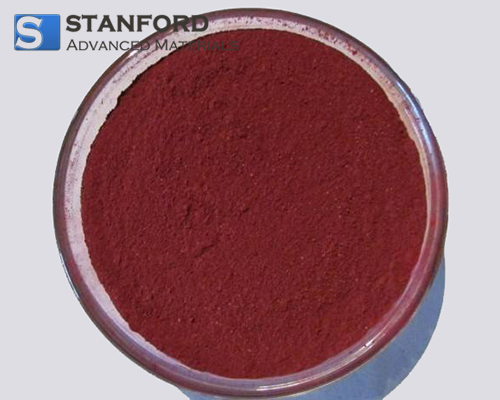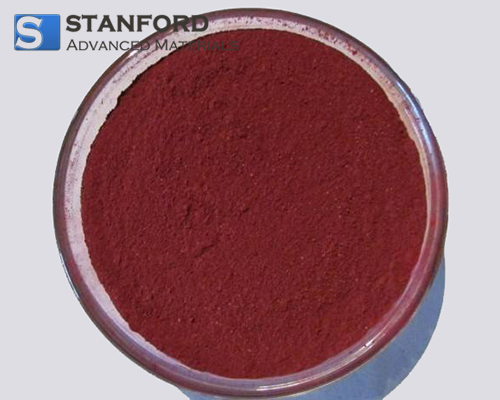 Rhenium(VI) Oxide Description
Rhenium(VI) Oxide (CAS: 1314-28-9) is a kind of deep red powder. Rhenium trioxide or rhenium oxide (VI) is an inorganic compound whose chemical formula is ReO3. It is a red solid with a metallic luster, and its appearance is similar to copper.
Rhenium(VI) Oxide Specification
| | |
| --- | --- |
| CAS Number | 1314-28-9 |
| Chemical Formula | ReO3 |
| Molecular Weight | 234.21 |
| Form | Deep red powder |
| Density | 6.92g/cm3 |
| Melting Point | 400℃ |
| Solubility | Insoluble in water. |
Rhenium(VI) Oxide Applications
Rhenium trioxide can be used as a catalyst for amide reduction in organic synthesis.
Rhenium(VI) Oxide Packaging
Our Rhenium(VI) Oxide is carefully handled during storage and transportation to preserve the quality of our product in its original condition.
GET A QUOTE
Please fill in your details and one of our material experts will get back to you within 24 hours. For more information, contact us via E-mail at sales@samaterials.com.
** Email address with your company's domain name is preferred. Otherwise, we may not be able to process your inquiry.