| | |
| --- | --- |
| Catalog No. | SR3092 |
| CAS Number | 14519-18-7 |
| Molecular Formula | Br2O6Sr |
| Molecular Weight | 343.4244 |
| Appearance | Crystalline |
| Purity | 99% |
Strontium Bromate (CAS: 14519-18-7) is generally immediately available in most volumes. Hydrate or anhydrous forms may be purchased. High purity, submicron and nanopowder forms may be considered. Stanford Advanced Materials (SAM) offer high-quality Strontium Bromate at a competitive price.
Related products: Lanthanum Strontium Cobaltite Cathode Powder, Strontium Fluoride Powder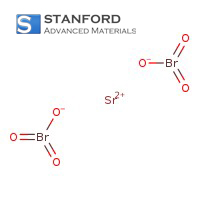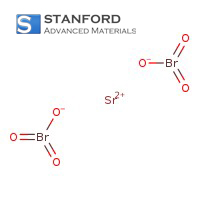 Strontium Bromate Description:
Strontium Bromate (CAS: 14519-18-7) is a chemical compound of strontium and bromine and is a moderately strong oxidizing agent. It is also toxic if ingested and irritates the skin and respiratory tract if come into contact with or inhaled, respectively. Strontium bromate is rarely used in the laboratory or in Industry.
Stanford Advanced Materials (SAM) produces many standard grades when applicable, including Mil Spec (military grade); ACS, Reagent and Technical Grade; Food, Agricultural and Pharmaceutical Grade; Optical Grade, USP and EP/BP (European Pharmacopoeia/British Pharmacopoeia) and follows applicable ASTM testing standards. Typical and custom packaging is available. Additional technical, research, and safety (MSDS) information is available as is a Reference Calculator for converting relevant units of measurement.
Strontium Bromate Specifications:
Physicochemical Information

Density

N/A

Melting Point

240 °C

Water Solubility

(30.9 g/100 ml at 20°C

Boiling Point

N/A
Strontium Bromate Safety Information:
| | |
| --- | --- |
| Personal protective equipment | Eyeshields, Gloves, type N95 (US) |
| RIDADR | NONH for all modes of transport |
| WGK Germany | N/A |
GET A QUOTE
Please fill in your details and one of our material experts will get back to you within 24 hours. For more information, contact us via E-mail at sales@samaterials.com.
** Email address with your company's domain name is preferred. Otherwise, we may not be able to process your inquiry.