CY3348 Terbium Dysprosium Ferroalloy GMM
Terbium Dysprosium Ferroalloy GMM Description
GMM (Tb1-xDyxFe2-y) material has actuation and sensing functions. Actuation means that the size of the material changes under the action of a magnetic field, which can convert magnetic energy into mechanical kinetic energy. It is characterized by high precision, fast response speed, and large force. At the same time, GMM material has a piezomagnetic effect, that is, the magnetization state of the material changes under the action of external force, so it can be made into a sensor.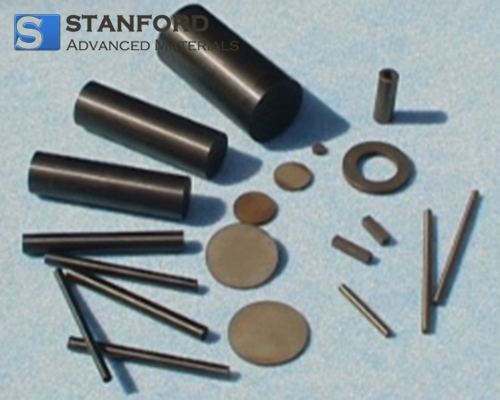 Terbium Dysprosium Ferroalloy GMM Specifications
| | |
| --- | --- |
| Magnetostriction (λ//) | ≥1000x10-6 (80kA/m, 10MPa) |
| Young's Modulus | (2.5~6.5)×1010N/m2 |
| Tensile Strength | ≥25Mpa |
| Compressive Strength | ≥260MPa |
| Thermal Expansion Coefficient | (8~12)x10-6/℃ |
| Curie Temperature | 380℃ |
| Coupling Factor | 0.65~0.75 |
| Sound Velocity | 1700~2600m/s |
| Operating Temperature | -40~150℃ |
| Density (g/cm3) | 9.15-9.25 |
| Energy Density | 14~25kJ/m3 |
| Relative Permeability | 3~15 |
| Conductivity | (60~130)x10-8Ω·m |
| Heat Capacity | 0.35kJ/kg·k |
| Reponse Time | <1μs |
| Precision | 10-1~10-3μm |
| Response Range of Frequency | 1~104Hz |
GMM Material Product Specifications
Rod

Diameter (D)

Length (L)

4-7

5≤L≤60

8-10

5≤L≤100

10-50

5≤L≤200
Bar

Length (L)

Width (W)

Height (H)

2≤L≤4

2≤W≤4

2≤H≤30

4≤L≤7

4≤W≤7

2≤H≤60

7≤L≤35

7≤W≤35

2≤H≤100
Ring

Outer Diameter (D)

Thickness(t)

Length(L)

8≤D≤10

2

2≤L≤50

10≤D≤20

3

2≤L≤100

20≤D≤50

4

2≤L≤100
Plate

Diameter (D)

Minimum Thickness (δ)

4≤D≤50

1
Layer

Diameter (D)

Length (L)

Minimum thickness (δ)

10≤D≤20

5≤L≤50

2

20≤D≤50

5≤L≤100

2
Terbium Dysprosium Ferroalloy GMM Applications
Giant magnetostrictive materials (GMM) has broad application prospects in:
sonar's underwater acoustic transducer technology,
electroacoustic transducer technology,
ocean exploration and development technology,
micro-displacement drive,
vibration reduction and anti-vibration,
noise reduction and anti-noise system,
intelligent airfoil, Robots, automation technology,
fuel injection technology,
valves, pumps, wave oil extraction and other high-tech fields.
Terbium Dysprosium Ferroalloy GMM Packaging
Our Terbium Dysprosium Ferroalloy GMM is carefully handled during storage and transportation to preserve the quality of our product in its original condition.
GET A QUOTE
Please fill in your details and one of our material experts will get back to you within 24 hours. For more information, contact us via E-mail at sales@samaterials.com.
** Email address with your company's domain name is preferred. Otherwise, we may not be able to process your inquiry.