OX3596 Thioxanthen-9-one (CAS No. 492-22-8)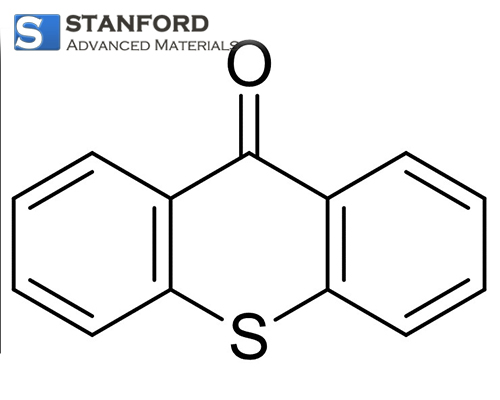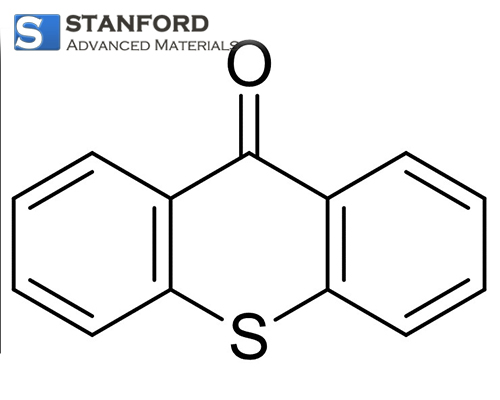 Thioxanthen-9-one Description
Thioxanthen-9-one is a heterocyclic compound that is a sulfur analog of xanthone. Thioxanthone can be prepared by the reaction of diphenyl sulfide with phosgene in the presence of catalytic aluminum chloride. This synthesis can be seen as a special case of Friedel-Crafts acylation. The reduction product is thioxanthene.
Thioxanthen-9-one dissolves in concentrated sulfuric acid to give a yellow-colored liquid with intense green fluorescence. A mixture of the thioxanthone derivatives of 2- and 4-isopropylthioxanthone (ITX) is used in the printing industry. It is a derivative of thioxanthone include hycanthone and lucanthone.
Thioxanthen-9-one Specification
| | |
| --- | --- |
| CAS Number | 492-22-8 |
| Chemical Formula | C13H8OS |
| Molecular Weight | 212.27 |
| Form | yellow crystal |
| Density (g/cm3) | 1.225 |
| Melting Point | 210-213℃ |
| Boiling Point | 371-373℃ |
Thioxanthen-9-one Applications
Thioxanthen-9-one is used in the printing industry.
Thioxanthen-9-one Packaging
Our Thioxanthen-9-one is carefully handled during storage and transportation to preserve the quality of our product in its original condition.
GET A QUOTE
Please fill in your details and one of our material experts will get back to you within 24 hours. For more information, contact us via E-mail at sales@samaterials.com.
** Email address with your company's domain name is preferred. Otherwise, we may not be able to process your inquiry.