| | |
| --- | --- |
| Catalog No. | SN1171 |
| Size | 20 x 45 x 295 mm |
| Purity | 99.9%, 99.99% |
| CAS Number | 7440-31-5 |
| Chemical Formula | Sn |
| Color | Silvery-white, lustrous |
| Density | 7.29 gm/cm3 |
| Melting Point | 231.9 °C |
Stanford Advanced Materials (SAM) is a trusted supplier and manufacturer of high quality Tin for a wide range of industrial uses.
Related products: High Purity Tin Metal, Tin Oxide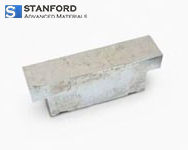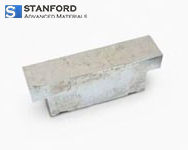 Description:
Tin is a silvery-white, lustrous, malleable and pliable metal. It has a low melting temperature of about 232 °C (450 °F), and 177.3 °C (351.1 °F) for 11-nm particles. Tin is protected by an oxide film and resists corrosion and oxidation from water. Tin can be combined with various elements to forms a wide variety of useful alloys. Tin is frequently alloyed with copper. Pewter, another frequently used Tin alloy, is 85–99% tin and 1-15% copper, antimony, bismuth and lead.
Specifications:
Item No.

Description

Purity

ME50-3N

Tin Metal Ingot

> 99.9%
As < 0.015%, Fe < 0.007%, Cu < 0.01%

ME50-4N

Tin Metal Ingot

> 99.99%
As < 0.0005%, Fe < 0.003%, Cu < 0.0005%

Applications:
• High purity Tin metal is widely used in manufacture of compound semiconductor, high purity alloy, superconducting material, solder and as a dopant of compound semiconductor.
• Polished tin and tin alloys are used as a protective coat for other metals. It provides a protective oxide layer to prevent oxidation.
• Tin-iron alloys are used for coating lead or zinc and steel to prevent corrosion.
• Tin-plated steel containers are widely used for food preservation.
• Tin has also sometimes been used in coinage.
Packaging:
Our tin ingots are carefully handled to minimize damage during storage and transportation and to preserve the quality of our product in its original condition.
GET A QUOTE
Please fill in your details and one of our material experts will get back to you within 24 hours. For more information, contact us via E-mail at sales@samaterials.com.
** Email address with your company's domain name is preferred. Otherwise, we may not be able to process your inquiry.