| | |
| --- | --- |
| Catalog No. | FL1231 |
| Purity | ≥99.9% |
| CAS Number | 7783-53-1 |
| Chemical Formula | MnF3 |
| Appearance | Crystal |
| Formula Weight | 111.93 |
Manganese (III) Fluoride (MnF3) for sale
High purity manganese (III) fluoride can be provided by Stanford Advanced Materials at a competitive price. Other customized Manganese compounds can also be manufactured and supplied to your requirements.
Other fluorides: Manganese (II) Fluoride (MnF2), Samarium (III) Fluoride (SmF3), Sodium Fluoride (NaF), etc.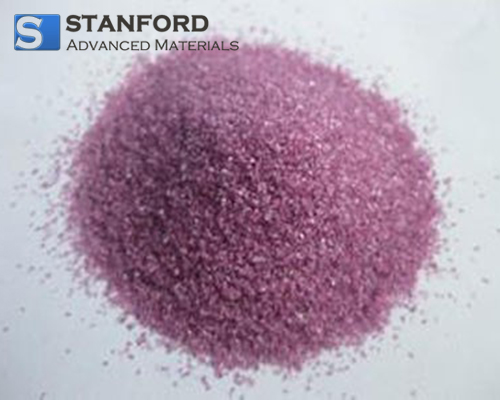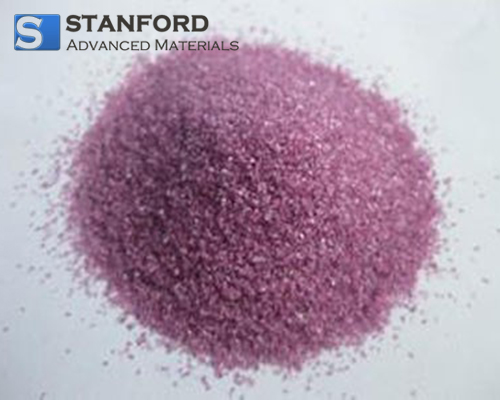 Manganese (III) Fluoride (MnF3) Description
Manganese (III) Fluoride (MnF3), also known as manganese trifluoride, is a purple-pink crystal. It can form hydrofluoric acid when dissolved in water, which can be dangerous and should not be stored in glass. Manganese(III) Fluoride is a water insoluble Manganese source for use in oxygen-sensitive applications, such as metal production.
MSDS of Manganese (III) Fluoride
Product Name: Manganese (III) fluoride
Formula: MnF3
Molecular weight: 111.93 g/mol
CAS No.: 7783-53-1
EC No.: 232-006-6
Hazard statement(s):
H272 May intensify fire; oxidizer.
H301 Toxic if swallowed.
H312 + H332 Harmful in contact with skin or if inhaled
H315 Causes skin irritation.
H319 Causes serious eye irritation.
H335 May cause respiratory irritation.
Precautionary statement(s):
P220 Keep/Store away from clothing/combustible materials.
P261 Avoid breathing dust/fume/gas/mist/vapors/spray.
P280 Wear protective gloves/protective clothing.
P301 + P310 IF SWALLOWED: Immediately call a POISON CENTER or doctor/physician.
P305 + P351 + P338 IF IN EYES: Rinse cautiously with water for several minutes. Remove contact lenses, if present and easy to do. Continue rinsing.
Manganese (III) Fluoride (MnF3) Applications
Manganese (III) Fluoride also has few commercial applications. It is mainly used as:
- fluorination agent
- oxidizing agent
Manganese (III) Fluoride (MnF3) Packaging
Our Manganese (III) Fluoride (MnF3) is clearly tagged and labeled externally to ensure efficient identification and quality control. Great care is taken to avoid any damage which might be caused during storage or transportation.
GET A QUOTE
Please fill in your details and one of our material experts will get back to you within 24 hours. For more information, contact us via E-mail at sales@samaterials.com.
** Email address with your company's domain name is preferred. Otherwise, we may not be able to process your inquiry.