Tungsten copper alloy is an alloy composed of tungsten and copper. Commonly used tungsten copper alloys contain 10% to 50% copper. The alloy is prepared by powder metallurgy, which has good electrical and thermal conductivity, good high-temperature strength, and certain plasticity. At very high temperatures, such as above 3000°C, the copper in the alloy is liquefied and evaporated, absorbing a large amount of heat, and reducing the surface temperature of the material. But do you know what Is the use of tungsten-copper alloy? If not, keep reading and in this article, we will take a closer look at the main uses of tungsten-copper alloys.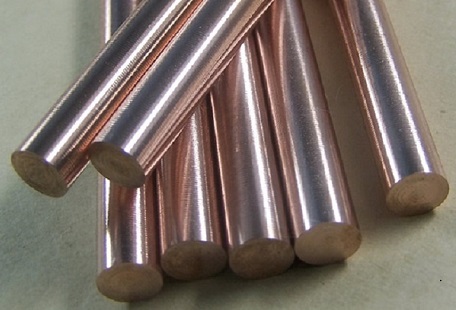 Military High-Temperature Resistant Materials
Tungsten copper alloy is used in aerospace and aviation as missiles, rocket engine nozzles, gas rudders, air rudders, and nose cones. The main requirements are high-temperature resistance (3000K~5000K) and high-temperature resistance to airflow. The sweat cooling effect formed by the volatilization of copper at high temperature (copper melting point 1083℃) is mainly used to reduce the surface temperature of tungsten copper and ensure the use under extreme high-temperature conditions.
Electrical Alloy for High Voltage Switch
Tungsten copper alloy is widely used in high-voltage switch 128kV SF6 circuit breaker WCu/CuCr, high-voltage vacuum load switch (12kV 40.5KV 1000A), and lightning arrester. The high-voltage vacuum switch is small in size, easy to maintain, and has a wide range of applications. It can be used in humid, flammable, explosive, and corrosive environments. The main performance requirements are arc ablation resistance, fusion welding resistance, low cut-off current, low air content, and low thermionic emission capability. In addition to the conventional macro performance requirements, porosity and microstructure performance are also required, so special processes must be adopted, requiring complex processes such as vacuum degassing and vacuum infiltration.
Electro-Processing Electrodes
Early EDM electrodes used copper or graphite electrodes, which are cheap but not resistant to ablation and have basically been replaced by tungsten copper electrodes. The advantages of tungsten copper electrodes are high-temperature resistance, high-temperature strength, arc ablation resistance, good electrical and thermal conductivity, and fast heat dissipation. Their applications are concentrated in electric spark electrodes, resistance welding electrodes, and high-voltage discharge tube electrodes.
Microelectronic Materials
Tungsten copper electronic packaging and heat sink materials have both the low expansion characteristics of tungsten and the high thermal conductivity of copper. Its thermal expansion coefficient and thermal conductivity can be changed by adjusting the composition of tungsten copper, thus providing a wider range of applications for tungsten copper. Because tungsten copper material has a high heat resistance and good thermal conductivity, and at the same time, it has a thermal expansion coefficient matching with silicon wafers, gallium arsenide, and ceramic materials, so it is widely used in semiconductor materials. It is suitable for high-power device packaging materials, heat sink materials, heat dissipation components, ceramics, and gallium arsenide bases, etc.
Conclusion
Thank you for reading our article and we hope it can help you know what is the use of tungsten-copper alloy. If you want to know more about tungsten-copper alloys, we would like to advise you to visit Stanford Advanced Materials (SAM) for more information.
As a leading supplier of tungsten-copper alloys across the world, SAM enjoys over two decades of experience in the manufacture and sale of tungsten copper, offering customers high-quality tungsten-copper alloys to meet their R&D and production needs. As such, we are confident that SAM will be your favorite tungsten-copper alloy supplier and business partner.