GD1078 Gadolinium Metal (Gd Metal)
| | |
| --- | --- |
| Catalog No. | GD1078 |
| CAS Number | 7440-54-2 |
| Melting Point | 1585 K (1312 °C, 2394 °F) |
| Density (at R.T.) | 7.9 g/cc |
| Boiling point | 3273 K (3000 °C, 5432 °F) |
Stanford Advanced Materials has gained a strong reputation with research institutions and industries by providing high purity gadolinium metals and compounds for more than two decades. Gadolinium is available in rod & wire, sheet & foil and other forms.
Related products: Gadolinium Metal Powder, Gallium Arsenide (GaAs), Gadolinium Rod & Gadolinium Wire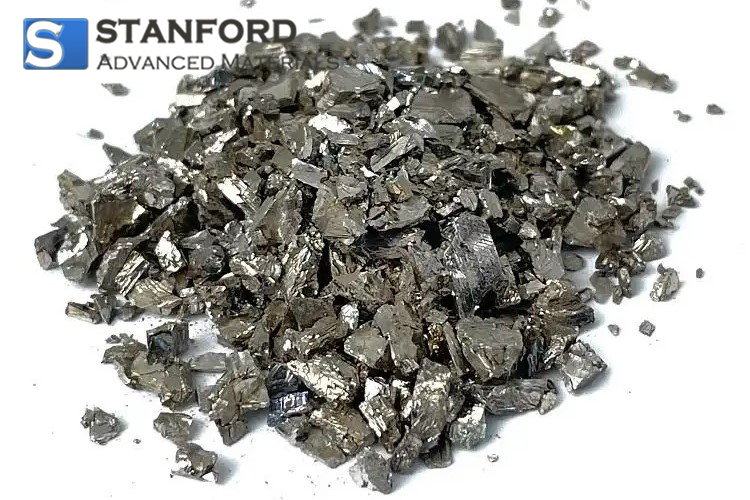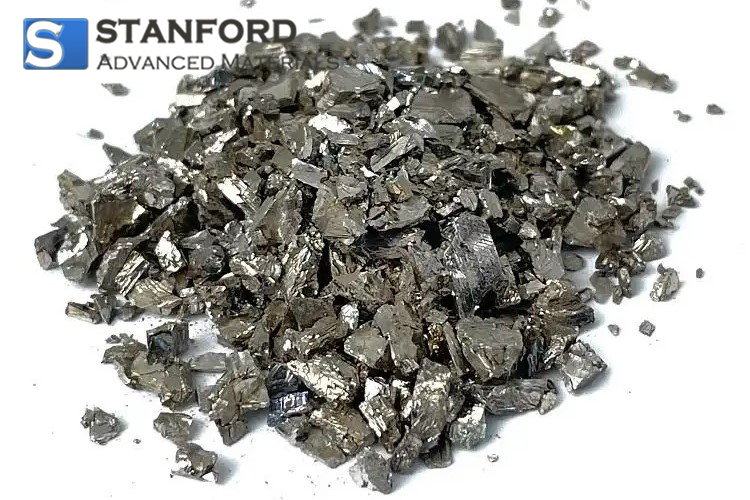 Gadolinium Metal Descfription
Gadolinium metal has unusual metallurgic properties. Just 1% gadolinium can greatly improve the workability and resistance to high-temperature oxidation of iron, chromium, and related alloys. As a metal or salt, gadolinium has an exceptionally high absorption of neutrons and therefore is used for shielding in neutron radiography and in nuclear reactors. At room temperature gadolinium crystallizes in the hexagonal, close-packed alpha form. The metal is relatively stable in dry air but tarnishes in moist air.
Gadolinium Metal Specification
Item No.

Description

Purity (REM/TREM)

Lot Size

ME64-2N

Gadolinium Metal

99%

5 kg
10 kg
50 kg

ME64P-2N5

Gadolinium Metal Powder
-40, -100, -325 mesh or other sizes

99.5%

1 kg
10 kg
50 kg

ME64-3N

Gadolinium Metal

99.9%

5 kg
10 kg
50 kg

ME64-3N5

Gadolinium Metal
By distillation

99.95%

5 kg
10 kg
50 kg

ME64-4N

Gadolinium Metal
By distillation

99.99%

5 kg
10 kg
50 kg

ME64ST-4N

Gadolinium Metal Sputtering Target
Disks, Plates, and other shapes.

99.9%

1 pcs
10 pcs
100 pcs

ME64FS-3N

Gadolinium Foil/Sheet

99.9%

1 pcs
10 pcs
100 pcs

ME64RW-3N

Gadolinium Rod/Wire

99.9%

1 pcs
10 pcs
100 pcs
We also supply other forms upon request.
Gadolinium Metal Application
- Gadolinium is used as a secondary, emergency shut-down measure in some nuclear reactors, particularly of the CANDU type.
- Gadolinium is also used for making gadolinium yttrium garnet.
- As a phosphor, gadolinium is applied in magnetic resonance imaging.
- Gadolinium compounds are mainly used for making green phosphors for color TV tubes.
Gadolinium Metal Packaging
Our Gadolinium Metals are clearly tagged and labeled externally to ensure efficient identification and quality control. Great care is taken to avoid any damage which might be caused during storage or transportation.
GET A QUOTE
Please fill in your details and one of our material experts will get back to you within 24 hours. For more information, contact us via E-mail at sales@samaterials.com.
** Email address with your company's domain name is preferred. Otherwise, we may not be able to process your inquiry.