AC3937 Alumina Lining Brick
| | |
| --- | --- |
| Catalog No. | AC3937 |
| Material | Al2O3 |
| Purity | 92% |
| Shape | Rectangle |
| Size | Customized |
Alumina lining brick is a type of aluminum oxide ceramic products. SAM provides alumina ceramic products with high purity, tight dimensional tolerance, and competitive prices. Our products are sold all over the country, and exported to Germany, Spain, Japan and Korea. Besides, we have strict management and advanced production technology. We promise we will win more clients and a larger market with honest commercial credit, high quality of products, competitive price and good service.
Related products: Alumina Plate, Alumina Custom Parts, Alumina tube, Alumina Rod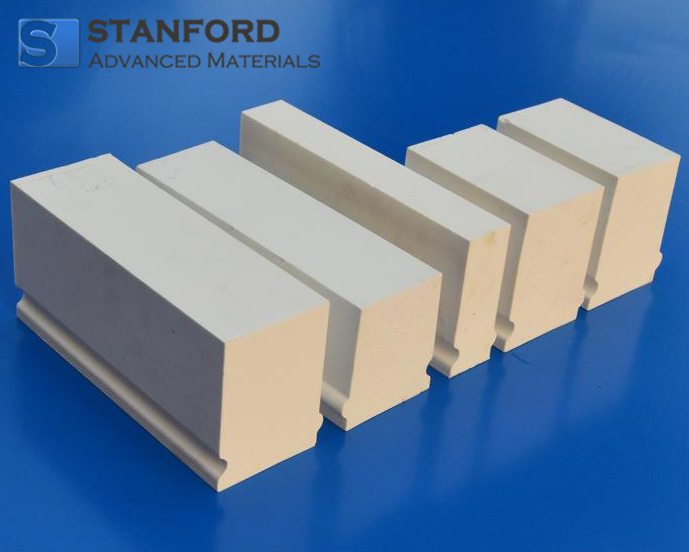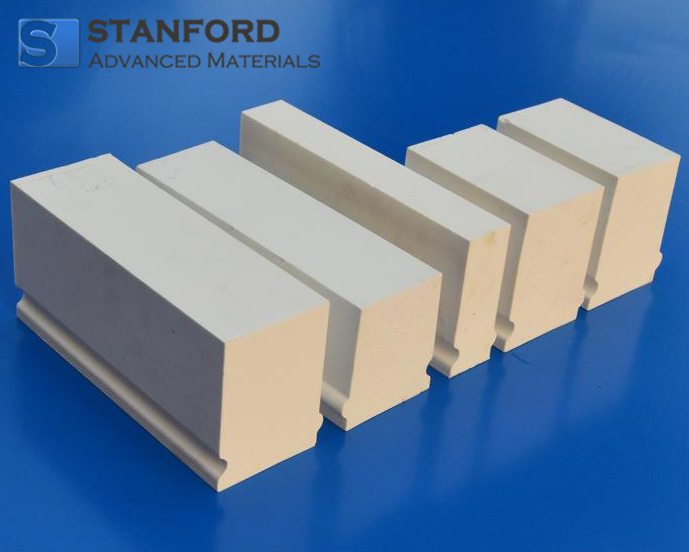 Alumina Lining Brick Descriptions
Alumina Lining Brick are classified into three categories according to their shape: rectangular bricks, trapezoidal bricks, and irregular bricks. All of them are hard, dense, neat, and durable. Alumina grinding bricks have high mechanical strength and superb anti-corrosion properties. High alumina lining bricks are also called 92 ceramic lining bricks, ball mill high alumina lining, and microcrystalline wear-resistant high alumina ceramic lining bricks, molded by a two-way hydraulic press and sintered in the high-temperature natural gas kiln.
Alumina Lining Brick Specifications
Alumina lining brick products have the characteristics of high hardness, high density, low abrasion, good regularity, and corrosion resistance. Alumina bricks are used for wear-resistant linings of ball mills. Wear-resistant Alumina ceramic lining bricks can increase the service life of ball mill linings. Alumina grinding bricks can increase grinding space, grinding efficiency, raise output by 30%-50% and reduce grinding time.
| | |
| --- | --- |
| Property | Value |
| Al2O3(%) | >92 |
| Bulk Density (g/cm3) | >3.6 |
| Hardness (mohs) | 9 |
| Wear Loss(%) | <0.01 |
| Color | White |
Alumina Lining Brick Features
-High mechanical strength
-Excellent abrasion
-Excellent impact resistance
-Corrosion and chemical resistance
-Lightweight
Alumina Lining Brick Applications
Utilized in industries such as pharmaceutics, cement, paint/pigments, chemicals, and coating, ceramic alumina lining bricks have a positive impact on the grinding process and production costs, and they're good for the environment as they lessen the usage of power and pollution. And it is widely used in ball mills and pipelines as wear-resistance lining.
Alumina Lining Brick Packaging
SAM's alumina lining brick is carefully handled to minimize damage during storage and transportation and to preserve the quality of our products in their original condition.
GET A QUOTE
Please fill in your details and one of our material experts will get back to you within 24 hours. For more information, contact us via E-mail at sales@samaterials.com.
** Email address with your company's domain name is preferred. Otherwise, we may not be able to process your inquiry.