TM0158 Titanium Rod (Ti Rod)
| | |
| --- | --- |
| Catalog No. | TM0158 |
| Size | Dia. 5mm-300mm (0.2"-12") Length 50mm-6000mm |
| Material | C.P.Titanium Ti Alloys |
| Standard | ASTM B348 AMS 4928 AMS 4957 ASTM F136 |
| Density | 4.5-4.51 g/cc |
| Surface | Pickled, Polished |
| MSDS/SDS | Download MSDS/SDS |
Special for Titanium rod or Titanium alloy rod Purchaser
A variety of Titanium Rod (Ti rod) is provided by Stanford Advanced Materials (SAM) with the most competitive price.
Other Titanium products you may be interested in Titanium wire, Titanium plate, Titanium tube.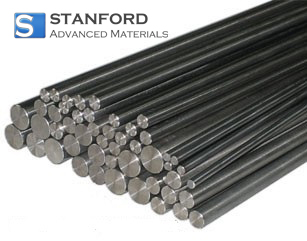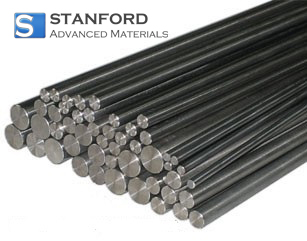 Titanium Rod (Ti Rod) Description:
The two most useful properties of Titanium are corrosion resistance and the highest strength-to-density ratio of any metallic element. It is often alloyed with aluminum, vanadium, and molybdenum, among other elements, to produce strong, lightweight alloys.

Specifications of SAM Titanium Rod:
MOQ: 20lbs
Size

Dia.: 5mm-300mm (0.2"-12"), Length: 50mm-6000mm (2.0"-236")

Material

Gr.1, Gr.2, Gr.4, Gr.5, Gr.7, Gr.9, Gr.12, Gr.23, etc.
C.P. Ti, Ti-6Al-4V, Ti-6Al-4V ELI, Ti-5Al-2.5Sn, Ti-3Al-2.5V, Ti-15333, Ti-38644, Ti-6Al-7Nb, Ti-662, Ti-6242, Ti-1023, Ti-4322 and Ti-0.2Pd etc.

Standard

ASTM, ASME, AMS and MIL

Surface

Polished

Shape

Rod, Straight
We custom manufacture Titanium Rod per your request.
Titanium Rod (Ti Rod) Applications:
- Aircraft engines and parts
- Chemical equipment
- Medical implants
- Sporting goods
Related articles:
CP Titanium – Commercially Pure Titanium (1)
CP Titanium – Commercially Pure Titanium (2)
Titanium Used in the Aerospace Industry
Medical Grade Titanium Materials - Indispensable to the Medical Industry
Application of Titanium in Watch
Titanium Used in Marine Engineering
GET A QUOTE
Please fill in your details and one of our material experts will get back to you within 24 hours. For more information, contact us via E-mail at sales@samaterials.com.
** Email address with your company's domain name is preferred. Otherwise, we may not be able to process your inquiry.