TM0160 Titanium Sheet (Ti Sheet)
| | |
| --- | --- |
| Catalog No. | TM0160 |
| Size | 0.5-4.75mm x 1000mm x L |
| Material | C.P.Titanium Ti Alloys |
| Standard | ASTM B265 AMS 4911 ASTM F136 ASTM F67 etc |
| Density | 4.5-4.51 g/cc |
| Surface | Pickled, Sand blasted |
Trusted wholesaler of Titanium Sheet
Stanford Advanced Materials (SAM) manufactures a range of Titanium sheets, in standard sizes and in square, rectangular or circular shapes. Custom Titanium products are also available according to your requirements.
Alternative products: Titanium plate, Titanium foil, Titanium strip, Titanium wire.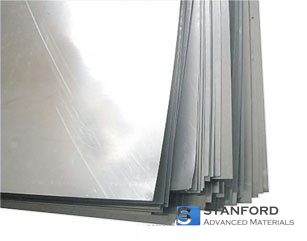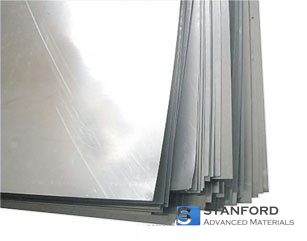 Titanium Sheet Introduction:
Titanium has excellent strength retention in temperatures up to 800 K, is 30% stronger than steel, and twice as strong as aluminum. It is also lightweight (50% lighter than steel) and demonstrates excellent corrosion resistance.
Specification of SAM Titanium Sheet:
Product

Titanium and Titanium alloy sheet

Material

Gr.1, Gr.2, Gr.3, Gr.4, Gr.5, Gr.7, etc.
C.P. Ti, Ti-6Al-4V, Ti-6Al-4V ELI, Ti-6242, Ti-0.3Mo-0.8Ni, Ti 15333, Ti-38644, Ti-3Al-2.5V and Ti-0.2Pd etc..

Standard

ASTM, AMS, AMSE, MIL, JIS
ASTM B265, ASME SB265, AMS 4911, ASTM F67, ASTM F136etc.

Processing

Hot rolled, Cold rolled


Sizes:
Thickness(mm)

Width(mm)

Length(mm)

0.5-0.8

800 max, Ti 6Al-4V

2000 max

1000 max, CP Ti

0.8-5

1000 max

3000 max
* Thickness of 1mm, 2mm, 3mm, 4mm and 5mm, we have in stock.

Titanium Sheet Applications:
-Heat exchangers
-Corrosion-resistant equipment
-Textile machinery
-Sporting equipment, etc.
GET A QUOTE
Please fill in your details and one of our material experts will get back to you within 24 hours. For more information, contact us via E-mail at sales@samaterials.com.
** Email address with your company's domain name is preferred. Otherwise, we may not be able to process your inquiry.