TA0024 Tantalum (V) Chloride (TaCl5) (CAS No. 7721-01-9)
| | |
| --- | --- |
| Catalog No. | TA0024 |
| Purity | 99.9%, 99.99% |
| CAS Number | 7721-01-9 |
Tantalum (V) Chloride (CAS: 7721-01-9) is a white monoclinic crystal powder. Stanford Advanced Materials (SAM) is a trustworthy supplier and manufacturer of high-quality Tantalum Pentachloride.
Other tantalum compounds are available upon request including Tantalum Oxide (Ta2O5), Tantalum Silicide Powder, and Tantalum Carbide Powder.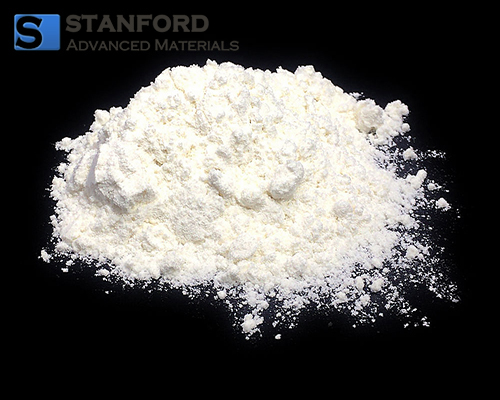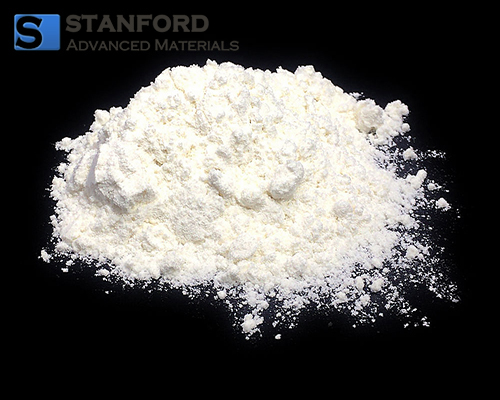 Tantalum (V) Chloride Description
Tantalum (V) Chloride is a white monoclinic crystal powder. Tantalum Pentachloride is soluble in aromatic hydrocarbons such as benzene, toluene, and mesitylene. TaCl5 is insoluble in cyclohexane and carbon tetrachloride. Tantalum (V) Chloride is a poor conductor of electricity. However, Tantalum (V) Chloride will readily hydrolyze to form Tantalum Oxychloride and Tantalum Pentoxide.
Tantalum (V) Chloride Specification
| | |
| --- | --- |
| Molecular Weight | 358.21 |
| Melting Point | 216°C |
| Boiling Point | 239.4°C |
| Appearance | Light yellow or white powder |
| Packing | Packed with plastic or glass bottles for the protection of dry nitrogen. (10kg/package) |
| Purity | >99.9% |
Tantalum (V) Chloride Application
Tantalum Pentachloride is used as the chlorinating agent of the organic compound, chemical intermediates, and preparation as tantalum.
Used to form mixed chloro-aryloxide compounds, such as [Ta(OC6H3-2,6-i-Pr2)2Cl3]2, which form pyridine or phosphine adducts with a distorted six-coordinate geometry. Also used as a starting material for new edge-bridged octahedral M6 cluster compounds such as CsErTa6Cl18, for which electron and stability studies were performed.
In chlorination of organic substances, as an intermediate, and in the production of pure metalTantalum(V) chloride is used in the preparation of catalyst for the polycyclotrimerizations of alkenediynes, chloro-aryloxide compounds and for the plasma-enhanced atomic layer deposition of tantalum nitride films. It acts as a starting material for new edge-bridged octahedral M6 cluster compounds. It is involved in the preparation of tantalum(V) oxychloride, tantalum pentoxide. It is electrophilic and behaves like a Friedel-Crafts type catalyst, similar to aluminum(III) chloride.
Tantalum(V) Chloride Safety Information
| | |
| --- | --- |
| Signal Word | Danger |
| Hazard Statements | H302-H314 |
| Hazard Codes | C |
| Precautionary Statements | P280-P305 + P351 + P338-P310 |
| Flash Point | Not applicable |
| Risk Codes | 22-34 |
| Safety Statements | 26-36/37/39-45 |
| RTECS Number | WW5600000 |
| Transport Information | UN 3260 8 / PGII |
| GHS Pictograms | |
Tantalum (V) Chloride Packaging
Our Tantalum (V) Chloride product is carefully handled to prevent damage during storage and transportation and to preserve the quality of our product in its original condition.
Material Safety Data Sheet for your reference.
GET A QUOTE
Please fill in your details and one of our material experts will get back to you within 24 hours. For more information, contact us via E-mail at sales@samaterials.com.
** Email address with your company's domain name is preferred. Otherwise, we may not be able to process your inquiry.